On the 22nd June 2017, EFIEES co-organised with eu.ESCO and EU-ASE a conference entitled "Boosting energy-efficiency services markets for building renovation and system efficiency", in the framework of the 2017 edition of the European Sustainable Energy Week. The conference was divided in two expert panels.
The first panel was composed of Timothée Noël, European Commission (Unit C3, DG ENER) and Bendt Bendtsen MEP, Rapporteur for the Energy Performance of Buildings Directive. In this first panel moderated by Monica Frassoni, President of EU-ASE, Mr Noël and Bendtsen presented their institutions' political perspectives on energy efficiency services.
The second panel's focus was put on practical examples and tools for scaling up investment in energy efficiency services (EES). Two energy services companies, Veolia Belux and Siemens, presented concrete examples of EES implementation together with their respective clients, the Belgian National Pensions Office and Marriott Hotels. The last speaker, Stefan Amann from e7 Energie Markt Analyse, presented H2020-funded QualitEE project (launched in June 2017) and explained how this project could help driving investment in EES in the coming years. This second panel was moderated by Valérie Plainemaison, EFIEES' Secretary General.
Finally the session was closed with the concluding remarks of Bernard Thomas, EFIEES' President and Volker Dragon, Chairman of eu.ESCO. They emphasised what they consider to be the three key concepts to upgrade the European energy transition:
Reducing energy consumption is the first step for a successful and affordable energy transition
Primary Energy should be the basis for comparing projects, and for establishing energy efficiency objectives for MS
Energy Efficiency Services, and in particular Energy Performance Contracting, are not well-known enough and therefore they must be promoted.
EFIEES Also made profit of this conference to launch its social media accounts, on Twitter (@efiees) and LinkedIn
Some pictures of the event: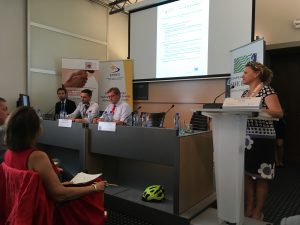 First panel, from left to right: Timothée Noël(DG ENER), Bendt Bendtsen (MEP) and Monica Frassoni (EU-ASE)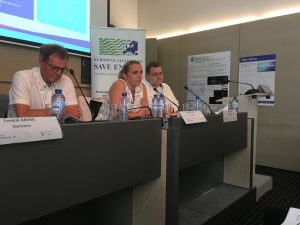 Concrete example of successful EES implementation with Sarah Scaillet (ONP) and Gérald Roy (Veolia Belux)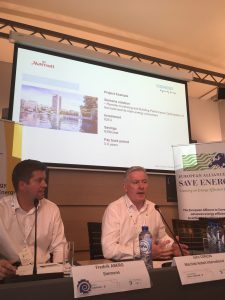 Another concrete example of successful EES implementation with Fredrik Aberg (Siemens) and John Conlon (Marriott Hotels)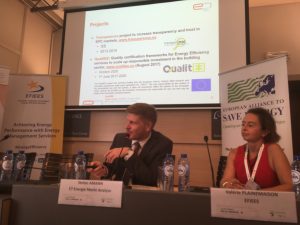 Presentation of QualitEE project by Stefan Amann (e7 Energie Markt Analyse)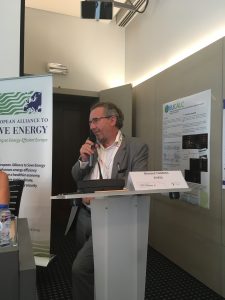 Concluding remarks from EFIEES' president, Bernard Thomas
Find below the different speakers' presentations: